writing
The only thing I have had any forewarning for in the two years I've been in Korea is for the speech I had to give at yesterday's morning meeting. They gave me two whole days to think about it. I think I did a good job. I said my one word of Korean and everyone clapped. I said some more words in English, but they obviously weren't as good as the Korean one.
My students have been writing me goodbye notes, all of which have been wonderful, even the naughty boys have taken a time out to write about how they love me and will miss me. It's great leaving Korea because you can really embrace your inner corniness and say whatever you feel because the Koreans do exactly that times ten (or "x thousand" as my students write in their notes).
I got some going away presents yesterday. The best definitely being the couple-set underwear for me and Jordan from the ladies in my conversation class. They think that Jordan and I are the cutest because we love each other. I'm not sure why there are whales and crowns on Jordan's underwear.
I've been having summer English camp for two weeks, and the highlight for me is always reading the amusing things my students post. Here are two answers to writing the conversation for this photo: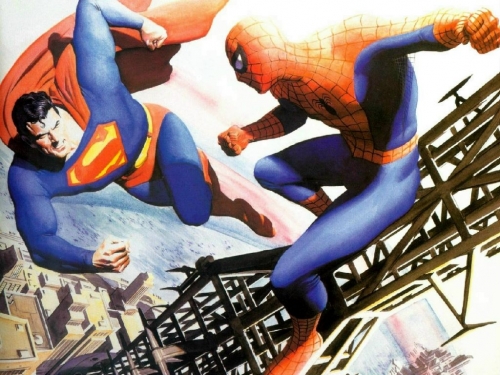 Spiderman say "superman! How are you?"
"So-so I'm pursued a manuscript conclusion"
"I am sorry"
"How are you" Superman ask
"I'm married a sexy girl <3."
Superman looked envious.
Spiderman alter a topic.
"Nowadays things develop and we unnecessary. I'm sad"
"Me too..."
Spiderman and Superman slightly bitter.
-----------------------------------------------------------------------------------------------------------------------------------------------------
Superman: Hey! Who are you? You look so strange.
Spiderman: What? I'm not strange, Who are you?
Superman: I'm first ask your. Who are you?!!
Spiderman: Ok..I'm Spiderman. Are you metamorphosis? Why are you wearing a panties over the stockings?
Superman: No!! I'm not metamorphosis!! I'm Superman. I'm a super hero. You must me to apologize.
Spiderman: What? Don't joke. I'm a hero too.
Superman: Well..Let's fight.
Spiderman: Ok. How?
Superman: Um. How about Rock.Scissor.Paper?
Spiderman: Ok. One..two..three.
Superman and Spiderman: Rock.Scissor.Paper!!!
Superman: Oh!! I win!! I'm a real hero!!